Risk-averse investors often prefer buying low-beta stocks, whose returns are ideally more stable than high-beta shares
While low-beta in the financial world is often synonymous with safety but boring returns, in the year that has seen equity market rallying over 20%, as many as 24 low-beta stocks in the BSE 100 index outperformed the index itself as on September 22. In comparison, just 21 high-beta stocks beat the benchmark, shows a DNA Money analysis.
Risk-averse investors often prefer buying low-beta stocks, whose returns are ideally more stable than high-beta shares. This year as well low-beta stocks have swung less than the market and their high-beta peers during volatile phases.
Beta is a measure of a stock's volatility in relation to the market or an index. A market or index has a beta of 1.0 and individual stocks are ranked according to how much they deviate from the market. A stock that swings more than the market over time has a beta above 1.0 is called high-beta. A stock which swings less than the market has a beta less than 1.0.
However, low-beta stocks are also giving good returns, without compromising on stability factor, point out experts.
While high-beta names like Indiabulls Housing Finance (97.1%), Tata Steel (75.6%), DLF (66.1%), and Hindalco (57.7%) given very good returns, low-beta picks have also surprised investors. Titan, which has a beta of 0.75, has gained nearly 90% in the 2017 year to date. Low-beta shares like TVS Motor (80.4%), Piramal Enterprises (74.3%) and Reliance Industries (55.4%) have also delivered high returns.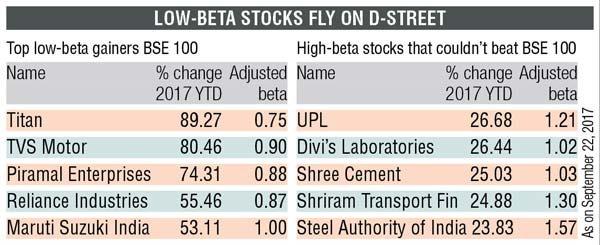 In comparison, the BSE 100 index was up 27.86% YTD as on September 22.
With a lot of money entering the equity markets regularly, many investors have tried to play safe, often picking stocks that can prove a shield if markets turn volatile.
"As broader valuations rise on the back of a gush of new-found liquidity in domestic stock markets, low-beta stocks may be finding more takers from investors who want to build a more downside-resistant portfolio. Many stocks in high-beta sectors like banks have not done very well in 2017 so far due to the bad loan situation," said Anil Rego, CEO, Right Horizons.
Most banking and financial service companies fall in the high-beta space. While YES Bank and IndusInd Bank have given 50-60% returns YTD, others like IDFC Bank, SBI, Axis Bank, and LIC Housing Finance have not been able to beat the BSE 100's returns.
"Many low-beta stocks are companies with long track-record of shareholder wealth creation. They also have very recognisable brands, recession-resistant businesses and free cash flow generating businesses. While we are still in a bull market, quality is always in high demand. This can explain why low-beta stocks like HDFC Bank, Hindustan Unilever, Britannia Industries, Crompton Greaves Consumer Electricals, Havells India, Eicher Motors, Cadila Healthcare, Asian Paints and ACC are doing well. However, their low-beta status may not be the only reason why investors chase them," said Sandeep Varma, an investment consultant who deals with high networth individuals.
However, low-beta stocks in IT and healthcare have failed to enthuse the investors. Tech Mahindra, Infosys, Sun Pharmaceutical Industries, Dr Reddy's, Glenmark Pharmaceuticals and Lupin have incurred YTD losses despite having low-beta than the market.
"Even in these cases, investors may have preferred other picks in the same sector. While Infy and TechMah haven't done well this year, Wipro has risen. In pharma space, Aurobindo, Divi's and Cadila have done better than the large-cap but low-beta stocks," points out a senior fund manager at the Indian unit of a global asset management company.